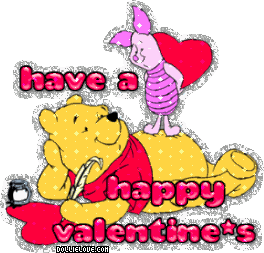 Valentine's Day is a great day to share love with those who are special to you. This holiday brings me back to my elementary days when I filled out the cards (that took forever to sign every one) and brought them to school to hand out. Remember making the special boxes with the pretty decorations? These boxes were filled with cards and candies from everyone in class. Now that I have a son who is in elementary school, I get to help him with his Valentine's for his classmates. I have come across a fun and creative gift that he can include with his Valentine's. I think it will be a big hit...and tasty, too! Fruit Roll-ups have come up with a super product for Valentines.
My Fruit Roll-ups
fruit flavored snacks have made it possible to make your own Valentines. You can go to their site:
here
, and create a fruit roll-up of your very own. You can pick a picture, a saying, and then just order. They have so many pictures to choose from! I made one with a groovy monkey and typed up
Happy Valentine's Day 2U
on it. I am excited to see it, and I know Nathaniel will love to give them out. There are 30 in a box, so it works out perfect for his class. Each box costs $29.99 (plus tax, where applicable). So it's only $1 for each roll! If you order before February 3, you can have them by February 13th! Just in time to give them out.
Would you like a chance to win a box of personalized Valentine's from My Fruit Roll-Ups? Just leave me a comment about the sweetest Valentine's message you have sent, or received, and I will pick three winners! That's it! This contest is open to bloggers and non-bloggers...and USA residents. This contest is open until February 1st at midnight. I will announce the winner February 2nd during the day, so you can get your orders in time for Valentine's Day.

CONTEST is NOW CLOSED~~winner will be announced Saturday afternoon (2/2)
Here are the three winners:
I will contact these three, but if you are on the list and see your name, feel free to e-mail me. :)